Posted by East End Prints on 8th Mar 2021
The Artists In Bloom Right Now
In life as well as artistic practice we all bloom and grow again and again. These can be tiny shifts that lead to bigger moves or just quiet arrivals at new, higher ledges of self belief and achievement. We wanted to ask our 6 artists something personal but also that related to their journey's as artists. The question we put to them was "Tell us about a moment when you have bloomed as a person and as an artist."
In the shared life spans of our artists we have seen the world and the landscape of the art industry be in constant flux. With the pandemic still being present as we welcome in another Women's History Month, we wanted to celebrate the work and lived experiences of Julia Walck, Amanda Kandawire, Jacqueline Colley, Emily Powell, Sumuyya Khader and Meghan Wallace.
Julia Walck (above right)
Growing up, I did a lot of fine art. So going into college I really thought about what exactly it was I wanted to do with that creative outlet, (but in a way where I'd still be able to make money). I thought about going into interior design, or maybe fashion design, but at the time I landed on textile design which I thought would be a good mix of everything. Not too far into my program, I realised it wasn't the type of creative outlet for me. It didn't encapsulate everything I wanted…. there were fun patterns, but I wanted to be able to do more than just that. That's when I turned to graphic design. I found I could achieve similar effects to things I had already been doing, but with the aid of a computer. For a while though, I got stuck in a holding pattern where everything I made was solely done on a computer and it didn't really feel like "me". I've always had a love for tangible things, especially ones with stories behind them. I'd frequent flea markets and antique stores looking for quirky objects to fill my home with, but I don't know why it took me so long to realise I could look for things to incorporate into my art, too! That's when I think the bloom happened. Over time I learned to get back to my roots by mixing digital and analog together, which I've found is my happy place.
Amanda Kandawire (above left)
My most recent bloom in this journey of becoming my best self, happened when I spread my wings and went to go live overseas for 18 months. Being out of my comfort zone, and away from everything that was familiar to me was a huge period of growth. I was less afraid to try new things, and being on my own gave me a new level of confidence and a profound belief that I could achieve all of my hearts desires. It was during this time that I decided to transition to Digital Art. I was skeptical at first, because I've always loved the feeling of working on paper. But I took to drawing on an iPad like a fish to water and it's now my favourite medium to draw on.
Being far away from home had me home stick, and as an emotional release I started incorporating elements that reminded me of the people of South Africa into my art, and that's when my illustrations bloomed. I was now sharing a different part of me and my people in my art, and it was a part that I had never explored before. I saw myself in my art, but more importantly, women who didn't know my story, saw themselves in my art too.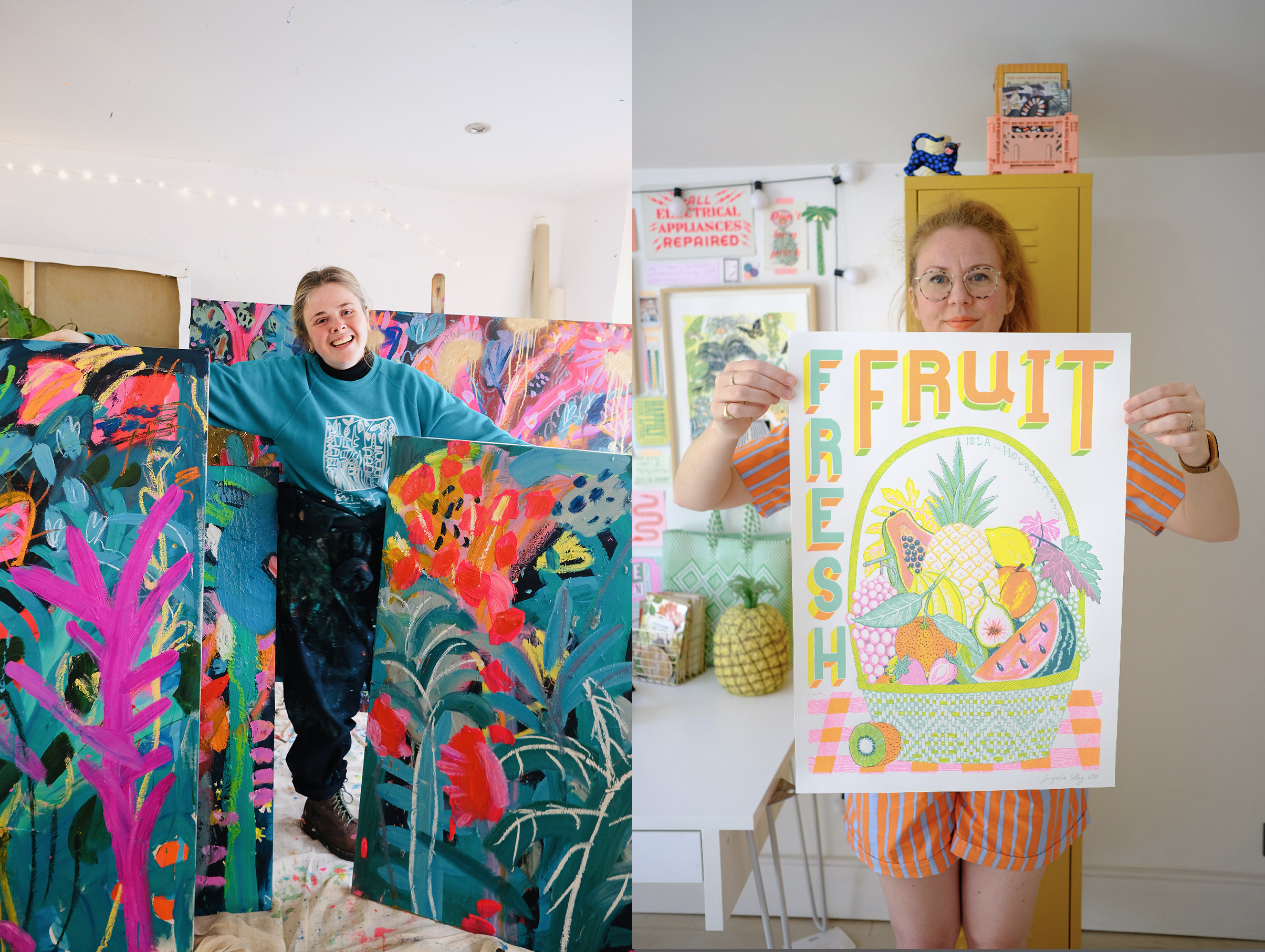 Jacqueline Colley (above right)
I bloom when I give myself permission to pursue my ideas and set other responsibilities aside giving myself a set amount of time to run free even if it's just a couple of hours. I believe in gifting yourself time to be creative and then allowing yourself to focus on just that one thing. Creativity for me is more of a solo pursuit but music and mainly podcasts are my companions and help me get into a flow state. Basically I want my brain to quiet down and stop questioning every mark that I make like "Is that crap?". If I'm listening to a conversation that really works for me and allows me to get lost in the process which I love; that is where I bloom!
Emily Powell (above left)
A moment when I truly bloomed as an artist was when I gave up my 9 to 5 job as a teacher to become a full time artist. I had reached a point where I couldn't hold back the flood inside me anymore and I simply had to do what I've always needed to do which is paint and create. I got materials, paints and brushes however I could. Old paints from eBay, sourcing half used paints from friends or building sites(with permission of course), and anywhere else I could find. I then painted on any and every surface in the house. Painting on old doors, driftwood, metal sheeting, canvas if I could afford it and even the walls and floors themselves. I'd get an idea at 4am and had to get out of bed and paint it. I have always known that painting and art is a big part of me but I never knew until then just how big.
There was a moment in my life where I had reached a point and didn't know where I could go from there. A collection of emotional catalysts left me feeling down and constantly exhausted both physically and emotionally. It was at this point when I realised I needed help and the only way I could get it was to ask for it. So I started going to counselling and talking through everything I'd been through. As I began to talk I felt my true self shining brighter and becoming more clear than it had ever been before. It really helped me understand many things about myself and I was able to bloom into a much stronger and independent self.
Sumuyya Khader (above right - shot of Sumuyya's studio)
As an artist I guess 2020 as a whole has been a strange sort of bloom. I took a bit of a dive while furloughed and wanted to have an outlet for my creativity so started daily drawing and sharing, mainly with an iPad and via Instagram. This slowly grew over the months leading to me having a small online store but also the opportunity to work with clients on commissions. I illustrated my first book cover, worked on a project for large commercial clients and also managed to share art in my local city working with local theatres and galleries to showcase the works of Black artists.
Another big bloom moment for me was setting up Granby Press, a small risograph studio that was made possible by the kindness of 268 people.
Granby Press was set up during lockdown so it's new and still finding its feet. It's meant that the physicality of having people come and print has been limited but the output from the press is happening. I've been trying to find small ways of engaging with people the first was releasing a free print for people who supported the campaign and people were able to stop by the studio and have a glimpse of the set up.
Meghan Wallace (above left)
A few years ago I graduated from Oklahoma State University with a degree in Apparel Design. I had a general idea of the type of position I was interested in pursuing. Upon applying, I came to find that Graphic Design was a big part of those jobs. I realised I wanted to go back to school and pursue a degree in Graphic Design in order to be in the area of the apparel industry I was interested in. This personal decision was probably the best decision I have ever made, leading me to become the artist I am today. As I continued with my degree I started creating art to sell online. It soon became my passion project and now I have my own LLC. These two decisions have allowed me to truly bloom into the business owner, graphic designer, illustrator, and doodler that I am today!
Thank you so much to all six artists for taking part in this piece and for the gorgeous photos of themselves and studios! Explore In Bloom, Feminist Art Prints and Motivational Art Prints.