BUY PRINTS ONLINE *FREE SHIPPING OVER £60 ON UK ORDERS* WE SHIP INTERNATIONALLY.
PRINT ON DEMAND POSTER ART
High quality, affordable graphic art prints for home and office. Our print on demand range comes in a range of sizes starting from a small print A3 (297mm x 420mm) going up to an A1 (594mm x 841 mm) . We use 210gsm acid free archival paper, which includes a 70 year guarantee. We print with a complimentary 2cm- 2.5cm border all round the print. Sizes below are actual paper size.
Your orders are literally 'printed on demand' using top of the range digital printing facilities in the UK.
What you see on our website are 600px images of the super high resolution files we have lovingly stashed away to protect the artist copyright. We print using industry standard high resolution equipment with the capability to create beautiful high quality prints up to A1 (594x841mm).
New graphic art is added to our growing range on a monthly basis, so do check back for new prints, offers and events. Alternatively you can subscribe to our newsletter here.
Sizes available:
A2 420mm x 594mm £29.95
50x50cm £29.95
50x70cm £45.00
A1 594mm x 841 mm £59.95
For bespoke sizes contact : info@eastendprints.co.uk
Order directly through the website and we will dispatch your prints to arrive within 4-7 working days. We use Royal Mail service for small packages, A2 framed and larger goes via DHL.
if you need something in a hurry please don't hesitate to get in touch. We are human but sometimes we can be superhuman.
FRAMED ART
Our ready to hang framed prints come in these sizes.
Sizes available:
A3 (Actual outer frame size 36x48cm) £39.95
A2 (Actual outer frame size 48x65cm) £59.95
A1

(Actual outer frame size 65x90cm)

£119.95
50x50cm (Actual outer frame size 56x56cm) £59.95
50x70cm (Actual outer frame size 56x76cm) £104.95
The real wood frames are 3cm wide x 1cm deep black or white grain with acrylic glaze for shipping. Acrylic glaze is 100% optically the same as glass. The simple hanging system on the back allows for these to go directly on a single screw.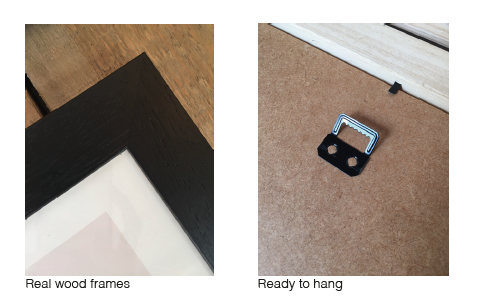 If you prefer a glass glaze, come and browse our East London shop, open 6 days a week.
The images of the designs are a representation of the colours in the prints. Colours may vary, but we try to match these as close as possible to our digital files provided by the artist. All of our prints come with a contemporary border, the border may vary slightly but on average will be between 2-3cm wide.
LIMITED EDITION ART
Our limited edition range is constantly changing as artist editions tend to sell through. Once they are gone they are gone! The size and style of printing vary greatly, so please check the description closely to find out if its a screenprint, lino cut and the edition size.
Currently FREE SHIPPING OVER £60 to all our UK customers. If you are making multiple purchases with our print on demand range, please expect a couple of separate packages to arrive.
We can advise you on bespoke framing, all of our editions are unframed.
info@eastendprints.co.uk
CAN I COLLECT FROM YOU?
Local collection is available from our East End Print Shop & Gallery At 234 Brick Lane, E2 7EB, London. You need to place and order with us, pay in advance then collect within a week.
SHOP PHONE: 0207 241 1118. Contact us: info@eastendprints.co.uk
DELIVERY AND POSTAGE:
We will aim to dispatch the prints to you within 2 working days. We use Royal Mail service for unframed prints in a tube and A2 & A1 framed prints go DHL. Delivery in 5-7 days maximum.
UK:
FREE UK SHIPPING OVER £60 - 4-7 working days on all framed and unframed prints.
Unframed prints in a tube £3.95 up to £35.00
Framed Prints and Orders between £35.00 and £59.95 £6.50.
EUROPE AND REST OF THE WORLD:
UNFRAMED PRINTS - delivered in a tube - one price per order: £15.00
FRAMED PRINTS - delivered by courier-one price per order: £25
We accept all major credit cards using paypal merchant services. VAT is included within the final checkout price. VAT Registration No.: 195 3101 17
We do not store credit card details nor do we share customer details with any 3rd parties.
Our Environmental Standards
We are committed to preserving the environment for future generations. Our paper is ethically sourced, maintaining the future of the world's natural resources. The wood pulp we use is chlorine free and originates from carefully managed, renewable forests. Many of our partners are fully FSC Chain Of Custody certified. This certification allows tracking of the wood pulp used in paper back to the original forest it was sourced from, ensuring continued support for healthy, renewable, responsibly managed forests.